Search Esri Press
Title, Author, Keyword or ISBN

ArcGIS for Desktop
Free Trial

Request a free 180-day trial of ArcGIS for Desktop for your Esri Press book.
FEATURED BOOK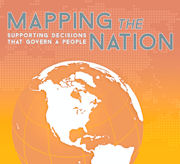 Announcements
On April 12, 2014, Esri Press received the AAG Publication Award for outstanding contributions to geography.
The free Esri Bookstore App offers a new, interactive reading experience with Esri publications.
Esri Press Catalog
Instructor Resources/Desk Copy Requests
Instructors may request desk copies of Esri Press books, and supplementary resources where available, for use in higher education curriculum. Submit your request via the Desk Copy Request Form.
How to Buy
You can buy Esri Press books online, by calling 1-800-447-9778 within the United States, or at bookstores worldwide. If you are ordering from outside the U.S., please see ordering options.
Information for Resellers
Esri Press books are available to resellers in the United States and Canada through Ingram Publisher Services (IPS).
Ingram Publisher Services
Phone: 1-866-400-5351; FAX: 1-800-838-1149
E-mail: customerservice@ingrampublisherservices.com
Visit ingrampublisherservices.com/ordering for a complete guide to placing orders for Esri Press books.
About Esri Press
Esri Press publishes books about the science, application, and technology of geographic information systems (GIS). Esri Press supports the global community with publications that advance geographic understanding, literacy, and learning in all endeavors, including education, business, government, and health care.
Contact Esri Press
Submit your questions, comments, suggestions for new books, or book proposals.
Browse By Category
Show/Hide All