ESRI Map Book, Volume 22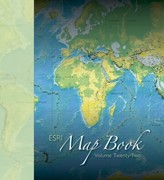 Esri Map Book, Volume 22, showcases some of the most creative, interesting, and beautiful maps presented in the Map Gallery exhibition at the annual Esri International User Conference. This book continues the tradition of featuring a collection of maps that demonstrate to readers the capability of GIS and how it is changing the world. Esri Map Book, Volume 22 will appeal to a broad audience of users including industry professionals, cartographers, students, scholars, and others interested in maps.
Contributors to the annual ESRI Map Book are from various industries such as conservation, government, natural resources, sustainable development, tourism, and utilities. More than 100 map authors are selected from businesses and organizations from around the world. The featured maps are carefully chosen from submissions to the Map Gallery at the annual ESRI International User Conference. Contributing map authors provide map descriptions.
ISBN: 9781589481725 2007 120 pages $24.95
To order this book:
Click the button below to order ESRI Map Book, Volume 22 online from Esri's GIS Bookstore, or call 1-800-447-9778. If ordering from outside the US, see ordering options.