Our World GIS Education: Thinking Spatially Using GIS, Mapping Our World Using GIS, Analyzing Our World Using GIS, and Making Spatial Decisions Using GIS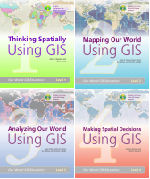 Winner of the 2008 Geography Excellence in Media (GEM) Awards by The National Council for Geographic Education.
Our World GIS Education was developed to enhance geographic information system (GIS) learning for students of all levels, grade school through college, and to provide teachers with comprehensive and easy-to-use resources for GIS instruction in the classroom. Creatively inspired by the award-winning
Mapping Our World: GIS Lessons for Educators
(MOWGLE), Our World GIS Education offers flexible GIS resources with the latest Esri software technology for all educators.
Teachers are given all of the tools necessary to easily incorporate GIS into their curriculum, regardless of their level of experience teaching GIS. The lessons and projects provide an opportunity to combine global and regional geographic themes and issues, inquiry-based learning, and interactive mapping and analysis into the curriculum while teaching technology skills. Each level contains components to create GIS projects and course work, such as:
- Lesson overviews including curriculum standards information
- Guidelines and tips for teaching the lesson
- Suggested lesson extensions
- Answer keys
- GIS data required for investigation or exercise
- GIS software (ArcExplorer-Java Edition for Education or ArcGIS Desktop 9.3)
The Our World GIS Education products are arranged by level to provide basic to progressively more advanced instruction. You may want to use one or more levels. Comparing curriculum goals with the instructional goals of each level is a good way to determine which will fit the curriculum best.
Note:
Our World GIS Education Level 1, 2, and 3 are to be used directly by teachers as instructional resources. Student exercises and answer sheets for Level 1, 2, and 3 can be found on the accompanying instructor's disk. Our World GIS Education Level 4 is to be used directly by the student for individual study. Educators that want to incorporate Level 4 into their curriculum can
request
a free desk copy and instructor resource DVD.
ISBN: 2008 pages $19.95 each