GIS Tutorial for Homeland Security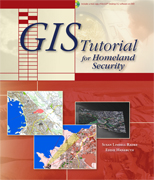 GIS Tutorial for Homeland Security presents a key ingredient to the recovery and improvement of national security with exercises that integrate best practices of GIS technology and public safety. GIS Tutorial for Homeland Security is the perfect start to building and examining different strategies of defense, presenting tutorials on preparing a Minimum Essential Data Sets (MEDS) database, information sharing and collaboration, disseminating indicators and warnings, establishing a critical infrastructure protection program, citizen protection, search and rescue, and more. Public safety officers, government officials, and students of criminal justice and public administration will benefit from the exercises in this workbook.

GIS Tutorial for Homeland Security includes a fully functioning 180-day trial version of ArcGIS® Desktop 9.3 software on DVD and a CD of data for working through the exercises.
Susan Lindell Radke is founder and president of Berkeley Geo-Research Group, an Orinda, California, GIS company. She has more than 25 years of experience developing GIS projects, geospatial information management systems, database programming, computer network systems, environmental planning, and geography education. In addition, Radke has designed course material encompassing primary geographic analysis, health and public safety, agricultural resource survey and land suitability analysis, homeland security, law enforcement, and economic development.

Eddie Hanebuth is founder and president of Digital Quest, a Mississippi-based development and training-oriented company that produces GIS instructional material for educational institutions. He chairs the U.S. Department of Labor's National Standard Geospatial Apprenticeship Program and the SkillsUSA Geospatial Competition Committee, and runs the SPACESTARS teacher-training laboratory in the Center of Geospatial Excellence, NASA's John C. Stennis Space Center.
ISBN: 9781589481886 2008 448 pages $79.95
To order this book:
Click the button below to order GIS Tutorial for Homeland Security online from Esri's GIS Bookstore, or call 1-800-447-9778. If ordering from outside the US, see ordering options.