Designing Geodatabases for Transportation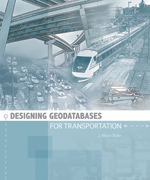 Designing Geodatabases for Transportation addresses the construction of a GIS to manage data describing the transportation facilities and services commonly organized around various modes of travel. Although details of each mode can be quite different, this book demonstrates how all modes of travel follow a basic conceptual structure consisting of an origin, a destination, a path between the two, and a conveyance that provides the abillity to move along the path. Designing Geodatabases for Transportation explains best practices for building and implementing geodatabases for transportation in a manner that enables flexibility and use by multiple parties, and provides solutions for existing problems created by unsystematic design.
Designing Geodatabases for Transportation
is also available as an e-book (ISBN 9781589482913, $39.99) and can be purchased at most e-book retailers.
J. Allison Butler has worked in a range of local, regional, and state transportation agencies during a thirty year career. The author of more than seventy-five professionally published works, Butler has been a consistent innovator in such fields as spatial database design, traffic engineering, planning policy, and economic development. He is a frequent conference speaker and workshop instructor on a number of topics, including highway safety, geodatabase design, agency management, and land-use planning.
ISBN: 9781589481640 2008 480 pages $64.95
To order this book:
Click the button below to order Designing Geodatabases for Transportation online from Esri's GIS Bookstore, or call 1-800-447-9778. If ordering from outside the US, see ordering options.