ESRI Map Book, Volume 24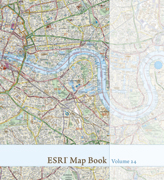 The ESRI Map Book is an annual volume published to exhibit the most innovative and well-crafted maps displayed at the ESRI International User Conference. This volume continues the tradition of acknowledging the outstanding efforts of GIS users in their respective fields. With more than 20 categories represented by more than 100 full-color maps, ESRI Map Book, Volume 24, tells the story of how GIS professionals are boldly shaping the world that they map. View maps from Volume 24 at the Map Book Gallery.
More than 100 map authors from organizations around the world are selected to contribute to the annual ESRI Map Book. Included maps are based on submissions displayed at the annual ESRI International User Conference map gallery, as well as regional user conferences around the world. Contributors are active users from various industries such as conservation, government, natural resources, sustainable development, tourism, and utilities.
ISBN: 9781589482302 2009 120 pages $24.95
To order this book:
Click the button below to order ESRI Map Book, Volume 24 online from Esri's GIS Bookstore, or call 1-800-447-9778. If ordering from outside the US, see ordering options.