Ocean Globe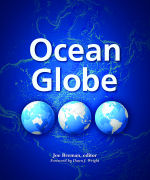 Ocean Globe focuses on bathymetry—the study of underwater depth of the third dimension—within the larger context of work being done by scientists and educators around the world. Each chapter represents a different facet of maritime research that relies on ocean floor mapping for its success. The topics covered address the diversity of the world's oceans and seas, placing emphasis on the need for better conservation. With a shared goal of joining disparate data collected over decades, the contributors of this volume turn to GIS as a tool for sharing information and advancing the science of bathymetry. Ocean Globe is both a resource for the classroom and a reference for practitioners.
Joe Breman is the president of International Underwater Explorations (IUE) in Maui, Hawaii, with more than fifteen years of experience working with GIS products. In addition, he is GIS architect with Akimeka, LLC in Maui, professor of oceanography, guest lecturer for the NOAA Marine Sanctuary, and scuba diving instructor. Breman holds an MA in Marine Sciences from the University of Haifa, Israel, and a BA from the University of California, Santa Cruz.
ISBN: 9781589482197 2010 294 pages $64.95
To order this book:
Click the button below to order Ocean Globe online from Esri's GIS Bookstore, or call 1-800-447-9778. If ordering from outside the US, see ordering options.