Building European Spatial Data Infrastructures, Second Edition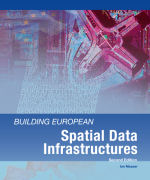 Building European Spatial Data Infrastructures explores the efforts of the European Union (EU) to create a framework for a multinational infrastructure for spatial information in Europe (INSPIRE). This framework will enable the EU to exploit the myriad opportunities created by modern GIS technologies. In its second edition, this book presents an overview of the innovative activities being performed by both the public and private sector to comply with the INSPIRE Directive, and explains the rationale and the processes involved in SDI development and implementation. Designed as a reference for GIS professionals and decision makers, this book promotes a general understanding of SDI concepts and provides examples of practical applications.
Ian Masser is a former professorial fellow at the University of Melbourne in Victoria, Australia. Masser has served as chairman of the Association of Geographic Information Laboratories in Europe (AGILE), president of the European Umbrella Organisation for Geographic Information (EUROGI), and president of the Global Spatial Data Infrastructure Association. He has authored eighteen books, seven of which relate to GIS.
ISBN: 9781589482661 2010 108 pages $34.95
To order this book:
Click the button below to order Building European Spatial Data Infrastructures, Second Edition online from Esri's GIS Bookstore, or call 1-800-447-9778. If ordering from outside the US, see ordering options.