The GIS 20: Essential Skills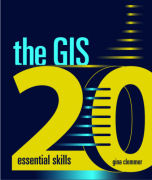 Geographic information system (GIS) is a powerful tool that can be challenging to navigate as a beginner, especially when you're faced with a deadline. Inspired by a poll of 500 GIS practitioners, The GIS 20: Essential Skills is an easy-to-understand guide that emphasizes the top twenty skills most people need to master to be successful using GIS. A quick and comprehensive introduction to fundamental GIS skills, this book includes a data CD for completing the exercises. Written for professionals with no time for classroom training, The GIS 20 can be used for independent study, or an as-needed reference.
The GIS 20 Essential Skills
Creating a reference map
Creating good layouts
Projections
Preparing data for ArcMap™
Attribute tables
Joining data and maps
Creating a thematic map
Creating a categorical map
GPS point mapping
Address mapping
Editing boundaries
Joining boundaries
Aerial photography
Digitizing a paper map
Attribute queries
Location queries
Creating reports
Creating buffers
Publishing maps
Creating geodatabases
Gina Clemmer is the president of New Urban Research, Inc., a research and training company in Portland, Oregon. She has spent the better part of the last decade training thousands of new GIS users across the country. The company's most popular workshop, Mapping Your Community: An Introduction to GIS and Community Analysis, has been taken by more than 15,000 working professionals. Clemmer holds a masters degree in urban planning from the University of Iowa. She currently lives in Portland, Oregon with her husband.
ISBN: 9781589482562 2010 156 pages $39.95
To order this book:
Click the button below to order The GIS 20: Essential Skills online from Esri's GIS Bookstore, or call 1-800-447-9778. If ordering from outside the US, see ordering options.