Getting to Know ArcGIS Desktop, Second Edition, Updated for ArcGIS 10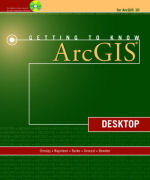 Getting to Know ArcGIS Desktop introduces principles of GIS as it teaches the mechanics of using ESRI's leading technology. Key concepts are combined with detailed illustrations and step-by-step exercises to acquaint readers with the building blocks of ArcGIS Desktop including ArcMap, for displaying and querying maps, ArcCatalog, for organizing geographic data, and ModelBuilder, for diagramming and processing solutions to complex spatial analysis problems. Its broad scope, simple style, and practical orientation make this book an ideal classroom text and an excellent resource for independent study. A data CD for working through the exercises and a fully functioning 180-day trial DVD ArcGIS Desktop 10 software is included.
Tim Ormsby works in product development at Esri. He is coauthor of the best-selling books Getting to Know ArcView GIS and Extending ArcView GIS.

Eileen Napoleon is an educational specialist at Esri where she enjoys teaching GIS and geographic concepts to those who are new to the subject. Napoleon has a master's degree in geography.

Robert Burke is a senior instructor and technical writer at Esri. Burke also teaches GIS and programming courses at the University of Redlands. He is the author of Getting to Know ArcObjects.

Carolyn Groessl was a technical writer for ESRI Press.

Laura Bowden is coauthor of Community Geography: GIS in Action. She currently works in GIS education at Esri.
ISBN: 9781589482609 2010 604 pages $79.95
To order this book:
Click the button below to order Getting to Know ArcGIS Desktop, Second Edition, Updated for ArcGIS 10 online from Esri's GIS Bookstore, or call 1-800-447-9778. If ordering from outside the US, see ordering options.