Thinking Spatially Using GIS Media Kit: Our World GIS Education, Level 1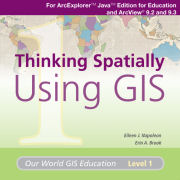 Thinking Spatially Using GIS, level 1 of the series introduces students and teachers to geographic data and maps while using GIS software. The lessons found in the four modules will help students understand basic spatial concepts. These include identifying location and direction, creating categories, symbolizing map features, recognizing spatial patterns, and thinking critically about our geographic data. Students will journey with early explorers, study the animal kingdom, trace U.S. population patterns, and analyze the occurrence of tornadoes. The lessons are aligned to the National Geography Standards for grades 3-6.

The Thinking Spatially Using GIS media kit includes a CD and a DVD. The CD, which can be used with PC and Macintosh computers, contains student data and handouts for the lessons, as well as teacher resources. It also contains the free ESRI software, ArcExplorer Java Edition for Education (AEJEE) in both Microsoft Windows and Macintosh versions. The DVD contains a one-year trial version of ArcView 9.3 for computers using Microsoft Windows.
Eileen J. Napoleon went to work as a geographer after receiving her master's degree in geography, first for the U.S. Forest Service and later for ESRI, where she has worked in GIS education for several years. Napoleon remains passionate about geography and education and enjoys teaching GIS and geographic concepts to those who are new to the subject.

After graduating with a degree in geography and GIS, Erin A. Brook spent five years working for ESRI Canada Limited as the K-12 industry manager. While there, she helped market and develop ESRI's education programs for students in kindergarten through grade 12. Brook currently works at ESRI in Redlands, California as an education specialist and looks forward to continuing work on educational materials for both teachers and students.
ISBN: 9781589482746 2010 296 pages $19.95
To order this book:
Click the button below to order Thinking Spatially Using GIS Media Kit: Our World GIS Education, Level 1 online from Esri's GIS Bookstore, or call 1-800-447-9778. If ordering from outside the US, see ordering options.