Making Spatial Decisions Using GIS Media Kit: Our World GIS Education, Level 4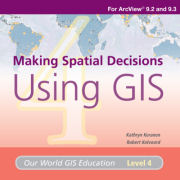 Making Spatial Decisions Using GIS, level 4 of the Our World GIS Education series, allows students to experience the process of spatial decision making in real-world settings. Designed for an upper-level high school or college curriculum, the five modules on this book encourage students to perform sophisticated analysis, make maps, and examine location criteria, population patterns, chemical spills, storm-ravaged coastlines, and big-city crime. Level 4 contains all students need to complete GIS projects, including GIS software, data, instructions, and worksheets. The modules offer step-by-step instruction along with guidelines for more independent study. The technical prerequisites for this advanced material are outlined in the introduction, which also explain how to use this media package, organize your workflow, and evaluate your products.

The Making Spatial Decisions Using GIS media kit includes a DVD of student text, data, and resources. A resource DVD containing instructor data and material is available upon request.
Kathryn Keranen is a retired teacher. She was instrumental in introducing GPS, GIS, and remote sensing into the geosystems curriculum in Fairfax County, Virginia. After retiring she became a private consultant and an authorized K-12 ESRI instructor. She has consulted for various universities and is an adjunct instructor at James Madison University and Towson University.

Robert Kolvoord is a professor of integrated science and technology at James Madison University (JMU). His main research interests are in the use of geospatial technologies in K-12 classrooms. He has administered a variety of professional and curriculum development grants and workshops to help teachers bring these technologies to their classrooms. Prior to coming to JMU, Dr. Kolvoord worked at the University of Arizona where he was a founder of the nonprofit Center for Image Processing in Education.
ISBN: 9781589482777 2010 212 pages $14.95
To order this book:
Click the button below to order Making Spatial Decisions Using GIS Media Kit: Our World GIS Education, Level 4 online from Esri's GIS Bookstore, or call 1-800-447-9778. If ordering from outside the US, see ordering options.