GIS Tutorial 1: Basic Workbook, Fourth Edition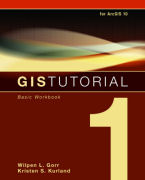 GIS Tutorial 1: Basic Workbook, Fourth Edition meets a growing demand for effective GIS training by providing tutorials and assignments that teach you how to collect data, create maps, and perform spatial analysis. Presented in a step-by-step format, the book can be adapted to your specific needs, whether these involve learning GIS in a classroom or using the book for independent study. Updated for ArcGIS 10, this workbook demonstrates a range of GIS functionality, from querying interactive maps to running geoprocessing tools, and it introduces ArcGIS extensions for advanced analysis. Reader-friendly exercises make GIS Tutorial 1 the perfect choice for beginners.

Also included is a fully functioning 180-day trial version of ArcGIS 10 software on DVD and CD of data for working through the exercises.
Wilpen L. Gorr is a professor of public policy and management information systems at the School of Public Policy and Management, H. John Heinz III College, Carnegie Mellon University, where he teaches and researches GIS applications. He is also chairman of the school's Master of Science in Public Policy and Management degree program.

Kristen S. Kurland is a professor of architecture, information systems, and public policy at Carnegie Mellon University's H. John Heinz III College and School of Architecture, where she teaches GIS, BIM, CAD, 3D visualization, and infrastructure management. Her research includes spatial analysis of health issues.
ISBN: 9781589482593 2010 428 pages $79.95
To order this book:
Click the button below to order GIS Tutorial 1: Basic Workbook, Fourth Edition online from Esri's GIS Bookstore, or call 1-800-447-9778. If ordering from outside the US, see ordering options.