GIS Tutorial 3: Advanced Workbook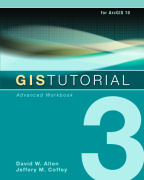 Intended for the intermediate to advanced GIS user, GIS Tutorial 3: Advanced Workbook explores the full breadth of ArcGIS software by demonstrating the complex capabilities of the tools available with the higher license levels of ArcGIS® Desktop. Whether used for independent study or in a college course, this workbook will help you develop advanced GIS skills that will make you a more efficient and productive GIS user. GIS Tutorial 3 is divided into the following four sections: geodatabase framework design, data creation and management, workflow optimization, and labeling and symbolizing. Each section contains tutorials composed of step-by step instructions on how to perform pertinent tasks, exercises to reinforce the concepts taught, reviews, study questions, and real-world applications. References for further study are given at the end of each chapter.

Also included is a fully functioning 180-day trial version of ArcGIS® 10 software on DVD and a DVD of data for working through the exercises.
David W. Allen is the GIS manager for the City of Euless, Texas. He has taught at Tarrant County College since 1999, where he helped found one of the first GIS degree programs in Texas and establish a state standard for GIS degree programs. He is the author of GIS Tutorial 2: Spatial Analysis Workbook (Esri Press, 2010) and Getting to Know ArcGIS ModelBuilder (Esri Press, 2011).

Jeffery M. Coffey, is currently the GIS manager for the Tarrant Regional Water District in Fort Worth, Texas, where he manages large GIS implementation, analysis, and integration projects. Coffey taught GIS classes at the University of North Texas and University of Texas at Arlington and helped establish an accredited GIS program at Tarrant County College where he currently teaches and serves on the GIS program's advisory board.
ISBN: 9781589482074 2010 412 pages $79.95
To order this book:
Click the button below to order GIS Tutorial 3: Advanced Workbook online from Esri's GIS Bookstore, or call 1-800-447-9778. If ordering from outside the US, see ordering options.