Getting to Know ESRI Business Analyst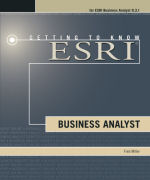 Getting to Know Esri Business Analyst is a workbook for business professionals and analysts who need to better understand their customers and markets. The workbook is a primer for Esri® Business Analyst™, a suite of products that merges Esri's demographic and business data, detailed maps, and advanced spatial analytics with an organization's data to help make better business decisions. The book's step-by-step exercises demonstrate the use of Esri® Business Analyst™ Desktop to grow a hypothetical start-up business into a national enterprise. Getting to Know Esri Business Analyst teaches a range of analyses, including trade area analysis, site selection, and customer profiling and segmentation to reveal patterns, trends, and business opportunities. The workbook is also suitable for use in college-level marketing and business courses.

The exercises in the book require ArcGIS® Desktop 9.3.1 software, Esri® Business Analyst™ Desktop 9.3.1, and the Business Analyst Segmentation Module 9.3.1. A DVD containing data for working through the exercises is included, and a free 30-day trial to a premium subscription of Esri® Business Analyst Online℠ is provided.
Fred L. Miller is Thomas Hutchens Distinguished Professor of Marketing and Business GIS in the Department of Management, Marketing and Business Administration at Murray State University, Murray, Kentucky. He is also director of MSU's Regensburg Exchange Program. His teaching and research interests are in the fields of business GIS, e-commerce, emerging technologies in marketing, and global marketing management. Miller authored the book GIS Tutorial for Marketing (Esri Press, 2007).
ISBN: 9781589482357 2010 352 pages $79.95
To order this book:
Click the button below to order Getting to Know ESRI Business Analyst online from Esri's GIS Bookstore, or call 1-800-447-9778. If ordering from outside the US, see ordering options.