Spatial Statistical Data Analysis for GIS Users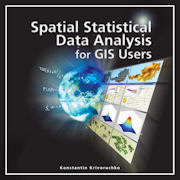 E-book on DVD only
This book on DVD simplifies the application of spatial statistics in GIS using case study data. The author explains the relationship between uncertainty in the data and uncertainty in the model, discusses sources of uncertainty and error, examines commonly used statistical distributions, and introduces methods for sensitivity and uncertainty analysis. The book also looks at the differences between continuous, regional, and discrete data and at the advantages and disadvantages of deterministic and statistical models.
Konstantin Krivoruchko is a senior research associate on the Esri software development team who played a central role in developing ArcGIS® Geostatistical Analyst. Prior to joining Esri in 1998, he was director of the GIS laboratory at the Sakharov Institute of Radioecology in Minsk, Belarus, where he developed GIS and spatial statistics curriculum, supervised PhD and graduate school candidate research pertaining to GIS applications and spatial statistical data analysis.
ISBN: 9781589481619 2011 894 pages $39.99
To order this book:
Click the button below to order Spatial Statistical Data Analysis for GIS Users online from Esri's GIS Bookstore, or call 1-800-447-9778. If ordering from outside the US, see ordering options.