Getting to Know ArcGIS ModelBuilder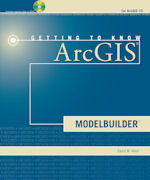 Getting to Know ArcGIS ModelBuilder teaches readers how to develop and run reusable geoprocessing workflows and models in ModelBuilder, a visual programming technology available in ArcGIS™. Getting to Know ArcGIS ModelBuilder presents basic and more complex concepts and demonstrates best practices through hands-on exercises. Divided into seven chapters addressing model basics, interactive models, flow control, multiple inputs, model iterations, model environment, and building documentation, this book fosters a comprehensive knowledge of ModelBuilder for the classroom and for self-learners. All the data needed for the exercises, as well as examples of models, Python scripts, and custom applications, are included in a companion DVD.
David W. Allen is the GIS manager for the City of Euless, Texas. He has taught at Tarrant County College since 1999, where he helped found one of the first GIS degree programs in Texas and establish a state standard for GIS degree programs. He is the author of GIS Tutorial 2: Spatial Analysis Workbook (Esri Press, 2010) and the co-author of GIS Tutorial 3: Advanced Workbook (Esri Press, 2010).
ISBN: 9781589482555 2011 336 pages $79.95
To order this book:
Click the button below to order Getting to Know ArcGIS ModelBuilder online from Esri's GIS Bookstore, or call 1-800-447-9778. If ordering from outside the US, see ordering options.