Esri Map Book, Volume 27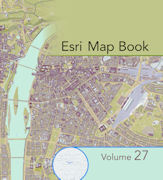 The Esri Map Book, Volume 27, shows how GIS enables change and provides innovative, spatially based solutions to wide-ranging issues, including those affecting business, the environment, utilities, transportation, and government. The full-color maps in this edition clearly show how GIS users around the globe contribute ever-increasing amounts of data and other resources to help achieve sustainable development and a more hopeful future. Dozens of maps from distinct industries spread across many countries, regions, and cities are featured. Each map includes a description of the map's purpose and how it was produced. The Esri Map Book, Volume 27, is an important collection of maps for GIS users, cartographers, collectors, and map libraries.
More than 100 map authors from organizations around the world were selected to contribute to this Esri map book. The maps are chosen from submissions displayed at the 2012 Esri International User Conference and other sources. Contributors come from various industries such as conservation, government, natural resources, sustainable development, tourism, and utilities.
ISBN: 9781589483149 2012 120 pages $24.95
To order this book:
Click the button below to order Esri Map Book, Volume 27 online from Esri's GIS Bookstore, or call 1-800-447-9778. If ordering from outside the US, see ordering options.