Python Scripting for ArcGIS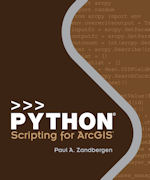 Python Scripting for ArcGIS is a guide for experienced users of ArcGIS Desktop to get started with Python scripting without needing previous programming experience. Experience with other scripting or programming languages (Perl, VBA, VB script, Java, C++) is helpful but not required. Readers are expected to have good general ArcGIS skills and a basic understanding of geoprocessing procedures. There are 14 chapters with corresponding exercises on an accompanying DVD. Also included is access to a 180-day trial of ArcGIS for Desktop 10.1.

Python Scripting for ArcGIS is also available for purchase in our app (9781589483620, $59.99).
Paul A. Zandbergen is an associate professor of geography at the University of New Mexico in Albuquerque. His areas of expertise include geographic information science; spatial and statistical analysis techniques using GIS; error and uncertainty in spatial data; GIS applications in criminology, economics, health, and spatial ecology; terrain analysis and modeling; and community-based mapping using GIS and GPS.
ISBN: 9781589482821 2013 368 pages $79.95
To order this book:
Click the button below to order Python Scripting for ArcGIS online from Esri's GIS Bookstore, or call 1-800-447-9778. If ordering from outside the US, see ordering options.