Economic Development and GIS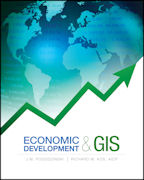 Economic Development and GIS shows why geographic information system (GIS) software is an essential tool for economic development planning and analysis. This book describes economic development policy problems then follows with methods and techniques to solve them with GIS. Featuring Esri Business Analyst™ Desktop, Esri Business Analyst Online℠, and spatial statistics extensions in ArcGIS for Desktop, Economic Development and GIS serves as a reference for economic development decision-making.
J. M. Pogodzinski is a professor of economics at San Jose State University and also teaches at City College of San Francisco. Pogodzinski served as a consultant to the U.S. Treasury Department on estimating tax revenues in developing countries and to the General Accountability Office (formerly the General Accounting Office) on the impact of federal programs on urban sprawl.

Richard M. Kos, AICP, is a certified urban planner specializing in the use of GIS to study land use change, alternatives to suburban sprawl, and public transportation. Kos teaches graduate-level courses in community-directed urban planning and GIS at San Jose State University in California and GIS workshops at City College of San Francisco.
ISBN: 9781589482180 2012 244 pages $65.95
To order this book:
Click the button below to order Economic Development and GIS online from Esri's GIS Bookstore, or call 1-800-447-9778. If ordering from outside the US, see ordering options.