Mapping Time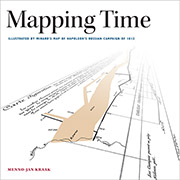 Mapping Time: Illustrated by Minard's Map of Napoleon's Russian Campaign of 1812 considers the cartographic challenge of visualizing time on a map. Inspired by graphic innovator Charles Minard's classic map of France's disastrous invasion of Russia, this book combines historical and geographic analysis with cartographic visualizations of mapping change over time. It includes more than 100 full-color illustrations. Available in hardcover.
Menno-Jan Kraak is a professor of geovisual analytics and cartography at the University of Twente in Enschede, Netherlands. He has written more than 200 publications on cartography and GIS and coauthored the textbook, Cartography, Visualization of Geospatial Data (Pearson Education 2010), which has been translated into five languages.
ISBN: 9781589483125 2014 168 pages $49.99
To order this book:
Click the button below to order Mapping Time online from Esri's GIS Bookstore, or call 1-800-447-9778. If ordering from outside the US, see ordering options.