GIS for Landscape Architects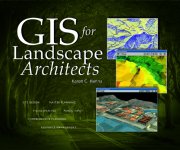 GIS for Landscape Architects proves that GIS technology is no longer the exclusive realm of geographers and scientists. Using GIS to create visual frameworks for gathering, interpreting, and sharing spatial data and information has helped the landscape professionals featured in this book accomplish a wide range of challenging goals. The case studies in this volume demonstrate how GIS technology can be applied to the preparation of a comprehensive plan for a historic streetscape, the creation of a site design for a major vacation resort, the successful design and management of a recreation area, among other tasks. GIS for Landscape Architects also includes a detailed chapter on the GIS Graphic Method developed by Karen C. Hanna to make GIS concepts accessible to landscape architects.
Karen C. Hanna is professor and head of landscape architecture and environmental planning at Utah State University. She is a registered landscape architect in two states, and coauthor of the book GIS in Site Design.
ISBN: 9781879102644 1999 122 pages $19.95
To order this book:
Click the button below to order GIS for Landscape Architects online from Esri's GIS Bookstore, or call 1-800-447-9778. If ordering from outside the US, see ordering options.