ESRI Map Book, Volume 21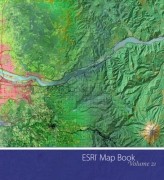 "Geographic information system (GIS)-based maps and geographic visualizations are increasingly being used as a way for humans to communicate their experiences to the information society.
The maps in this book provide evidence of how GIS applications are helping to successfully describe and model many aspects of geographic knowledge about our world. GIS professionals are increasingly sharing their databases as GIS services that can be viewed and combined. Over time, this will enable society to better address a host of complex problems dealing with environmental sustainability, better governance, and more efficient business by reducing costs and helping organizations make faster, better decisions.
I want to thank the people who have made these maps and acknowledge the wonderful contributions these maps represent. These efforts are making a difference in the world."—Jack Dangermond
You can also view maps from previous editions of the ESRI Map Book online at the interactive Map Book Gallery.
Limited quantities of past volumes are available in the GIS bookstore.
ISBN: 9781589481633 2006 120 pages $24.95
To order this book:
Click the button below to order ESRI Map Book, Volume 21 online from Esri's GIS Bookstore, or call 1-800-447-9778. If ordering from outside the US, see ordering options.