GIS for Water Management in Europe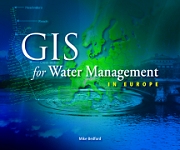 On the European continent, a common physical geography means common problems in natural resources and environmental management that require a unified approach to finding solutions. Nations already geographically unified are becoming even more closely bound in other ways: administratively, politically, and economically. The case studies examined in GIS for Water Management in Europe recount the myriad imaginative ways that European organizations, agencies, and governments are using GIS technology to bring unity to a diverse group of problems.
Mike Bedford has written numerous scientific and technical articles for a variety of publications in Europe and the United Kingdom.
ISBN: 9781589480766 2004 156 pages $19.95
To order this book:
Click the button below to order GIS for Water Management in Europe online from Esri's GIS Bookstore, or call 1-800-447-9778. If ordering from outside the US, see ordering options.