Fun with GPS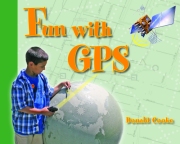 Millions of people love their global positioning system (GPS) devices but do not know how they can use this amazing technology to do much more than simply calculate a location. The dozens of illustrated examples in Fun with GPS show how GPS devices can be attached to just about anything or anyone. Each example includes maps and photographs that will inspire hobbyists, airline passengers, athletes, animal lovers, drivers, teachers, and students to track and map their activities. This book also discusses ways to incorporate GPS technology in the classroom to reinforce science, math, and geography curricula, and provide groundwork for project-based learning.
Donald Cooke is a coauthor of The History of Geographic Information Systems. He is a past member of the National Academy of Science Mapping Science Committee and a member of the National Consortium for Remote Sensing in Transportation Steering Committee. Cooke played a central role in the creation of TIGER, the Topologically Integrated Geographic Encoding and Referencing database of the U.S. Census Bureau. He lives in Lyme, New Hampshire.
ISBN: 9781589480872 2005 152 pages $19.95
To order this book:
Click the button below to order Fun with GPS online from Esri's GIS Bookstore, or call 1-800-447-9778. If ordering from outside the US, see ordering options.