Designing Better Maps : A Guide for GIS Users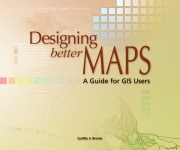 Designing Better Maps: A Guide for GIS Users demystifies the basics of good cartography, walking readers through layout design, scales, north arrows, projections, color selection, font choices, and symbol placement. Recognizing the need for integration with other publishing and design programs, the text also covers various export options, all of which lead to the creation of publication-worthy maps. Designing Better Maps includes an appendix describing the author's popular ColorBrewer application, an online color selection tool.
Cynthia A. Brewer is a professor and associate head of the Department of Geography at Pennsylvania State University, where she teaches introductory cartography and map design courses and advises graduate students working in cartography. She has worked as a map and atlas design consultant for the U.S. Census Bureau, National Cancer Institute, National Center for Health Statistics, and National Park Service. She is the author of Designed Maps: A Sourcebook for GIS Users.
ISBN: 9781589480896 2005 220 pages $34.95
To order this book:
Click the button below to order Designing Better Maps : A Guide for GIS Users online from Esri's GIS Bookstore, or call 1-800-447-9778. If ordering from outside the US, see ordering options.