Mapping Our World Using GIS Media Kit: Our World GIS Education, Level 2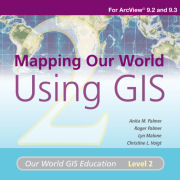 Mapping our World Using GIS, level 2 of the Our World GIS Education series, targets middle school and high school students with seven modules that build skills of geographic inquiry, spatial thinking, and GIS technology. Using step-by-step instructions, questions, and data, students can hone their problem-solving skills while studying global and regional geology, climate, populations, political boundaries, and economics. The lessons align to the National Geography Standards for grades 5-8 and 9-12, and a chart aligns the lessons to the National Science Education and National Technology curriculum.

The Mapping Our World Using GIS media kit includes a CD and a DVD. The CD contains files with student worksheets, GIS data for completing the lessons, and additional files and resources for teachers. The DVD contains a one-year trial version of ArcView 9.3 software for computers using Microsoft Windows operating systems.
Anita M. Palmer is an educational technology consultant based in Texas.Together with her husband, Roger, their company, GISetc, has offered GIS workshops to educators across the nation.

Roger Palmer is co-founder of GISetc, based in Dallas, Texas. Roger has been a high school chemistry, physics, and environmental science teacher for fifteen years.

Lyn Malone is a consultant specializing in the educational application of spatial technologies. She is based in Rhode Island.

Christine L. Voigt is an award winning educator and free-lance curriculum writer from Dallas, Texas.
ISBN: 9781589482753 2010 232 pages $19.95
To order this book:
Click the button below to order Mapping Our World Using GIS Media Kit: Our World GIS Education, Level 2 online from Esri's GIS Bookstore, or call 1-800-447-9778. If ordering from outside the US, see ordering options.